Dongfeng Auto Parts Supporting Project Concentrated in Zhengzhou
On November 12th, Zhengzhou Suwanlong Injection Molded Parts Project, Minhui Automobile Metal Parts and Interior Decoration Project and the Japanese Windup Car Seat Project, which are important supporting projects for Dongfeng Nissan, started collectively in Economic Development Zone. District Party Committee Secretary Cui Shaoying, District Management Committee Director Wang Guixin, Zhengzhou City Automobile Bureau Director Liu Yanling, District Administrative Committee Deputy Director Shi Yunhui and senior executives attended the groundbreaking ceremony.

The Suzhou Wanlong Group, the parent company of the Zhengzhou Suwanlong injection molding project, is the core supplier of Zhengzhou Nissan and one of the major auto parts manufacturers in East China. The newly started Suwanlong project has a land area of ​​54 mu, an investment of 156 million yuan, and a building area of ​​more than 48,000 square meters. The main products are dashboards, port panels, bumpers and automotive interior parts. After completion and production, the project will be completed. Production of automobile interior parts 300,000 sets, the output value of more than 300 million yuan.

The project of Zhengzhou Rifa Automobile Parts Co., Ltd. occupies an area of ​​approximately 70 mu, with an investment of over 200 million yuan. Upon completion, it will produce 100,000 sets of automobile seats each year to form a production value of 500 million yuan. With a total investment of 180 million yuan, Zhengzhou Minhui Automobile Parts Co., Ltd. occupies an area of ​​60 mu. It mainly produces body structure parts, trim strips and decorative parts. After reaching production, the output value can reach 500 million yuan.

At present, Dongfeng Auto Parts Park has successfully introduced 22 parts and components supporting projects, which are mainly distributed in the 18th Street Parts Park and the 22nd Street Parts Park. The park's projects cover engines, engine module assemblies, car seats, metal stampings, injection molded parts, automotive electrical components, and automotive sheet cutting products. Of the 22 projects, 13 have already been put into operation, 6 are under construction, and 3 are new projects. The total planned investment in the park exceeds 7 billion yuan. After the total production, the annual output value will exceed 10 billion yuan.

The three foundation projects are the core projects of Dongfeng Nissan and Zhengzhou Nissan. The entry of the project will inject new impetus into the development of vehicle companies in the region, and will also add strong vitality to the development of the automobile industry in Zhengzhou City and even Henan Province.
Air Source Heat Pump
Cooling capacity: 20kW-50kW

Characteristics:
1.Structure. Panels and base frame are made from galvanized steel protected with polyester powder painting to ensure total resistance to atmospheric agents.
2.Compressor. Hermetic scroll type compressor, equipped with the crankcase heater and thermal protection with thermal overload cut-out and crankcase heater mounted on rubber vibration isolators.
3.Axial fan. External rotor type axial fans, equipped with single phase direct drive motors, low noise 6 poles, protection level IP54, provided with a protective outlet grille.
4.Evaporator. High efficiency and low pressure drop stainless steel (AISI 316) water exchangers, with anti-freeze heating element (option) and differential pressure switch, factory insulated with flexible close cell material.
5.Condenser. Coils are consisting of seamless copper tubes mechanically expanded into blue hydrophilic aluminum fins, 100% fully quality tested; sub cooling circuit to prevent freezing at the base (optional); protected with metal grill.
6.Desuperheater: High efficiency stainless steel brazed plate heat exchanger, factory insulated with flexible close cell material (optional).
7.Refrigerant circuit. Copper tube connection with charge valve, filter, sight glass, gas-liquid separator, thermostatic expansion valve, low pressure switch with automatic reset, high pressure switch with manual reset. The heat pump unit is completed also with 4-way valve, liquid receiver and one way valve.
8.Water circuit. Built with air vent valve, water drain connection, and female-threaded hydraulic connectors. Water pump (8kW-30kW), differential pressure switch. Expansion tank (8kW-30kW)
9.Electric panel. Consists of:
Compressor contactor
Compressor protection breaker
Fan motor protection breaker
Control circuit protection breaker
Phase sequence relay (only for 3-phase)
Programmable microprocessor controller
10.Optional
Additional electric heater embedded in the coils for defrosting in low temperature ambient. It must be factory installed
Stainless steel covering
Remote condenser
Tube in tube heat exchanger

Water circuit electric heater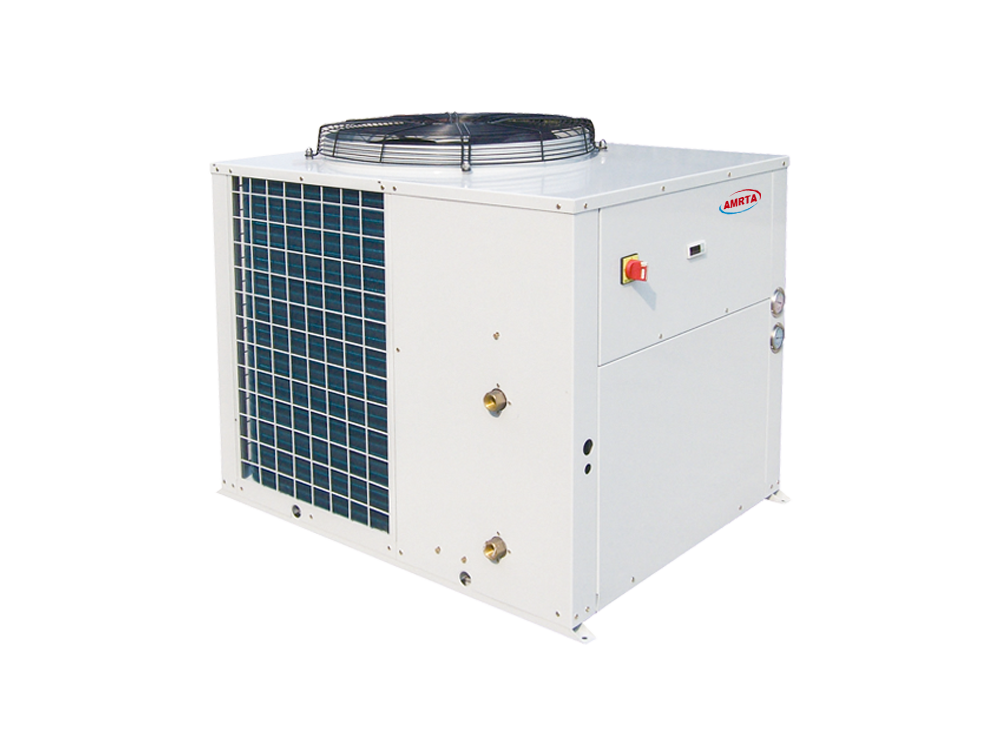 Air Source Heat Pump
Air Source Heat Pump,Hot Water Air Source Heat Pump,Heating Air Source Heat Pump,Scroll Air Source Heat Pump
Jinan Amrta Air Conditioning Co.,Ltd , http://www.amrtaac.com