The power lithium battery pattern basically establishes that the energy storage market will welcome new opportunities.
Before 2013, 3C lithium battery application occupied nearly 90% market share in the lithium battery market. With the rapid development of new energy vehicles, this pattern was quickly broken. From 2013 to 2016, sales of power batteries increased by nearly 80%. In the same period, the lithium battery energy storage industry has also grown slowly in the market and policy. According to the data from the OFweek Industry Research Center , the power battery application in 2016 was about 21.7Gwh, which accounted for 40% of the total lithium battery application. The energy storage battery application was about 3.8Gwh, and the growth rate was about 30%.
Annual consumption of three terminal lithium batteries in China (Mwh/year)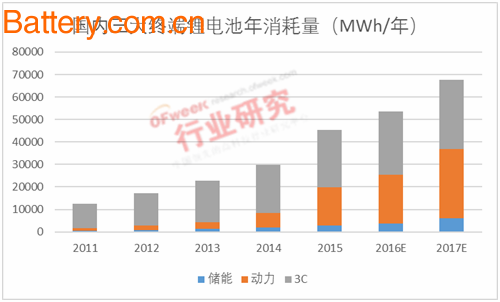 Source: OFweek Industry Research Center
Pan Yao, an analyst at OFweek's new energy industry, said that from the perspective of supply and demand, China's demand for power lithium batteries in 2016 is about 22Gwh, and according to our top 19 companies with major production capacity, 2016 capacity is expected to have reached 65Gwh, the total supply is already surplus, but there is still a structural shortage of high-end products. Next, the development of China's power lithium battery will enter a period of steady development driven by policies and markets. Some have high output value like CATL and BYD. Enterprises with deep talent reserves and leading technology will be difficult to be surpassed, and some small enterprises with backward technology and serious homogenization will be gradually eliminated in the future. The competitive landscape of the power lithium battery industry has been basically established.
China's three terminal lithium battery application growth rate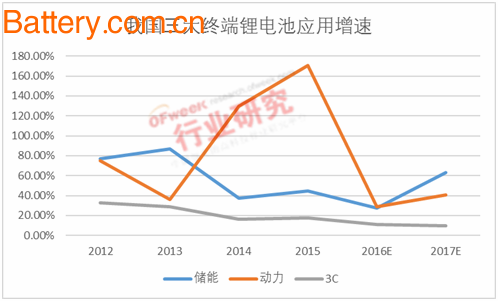 Source: OFweek Industry Research Center
From the perspective of growth rate, the growth rate of 3C lithium battery in 2016 was about 10.7%, which was significantly lower than that in 2015. The growth rate of power lithium battery was about 28.8%, the growth rate dropped greatly, and the development of energy storage lithium battery was relatively stable. Pan Yao, an analyst at OFweek's new energy industry, believes that power lithium batteries will continue to grow, but due to the large base, it is difficult to achieve breakthrough growth. In the future, the energy storage lithium battery market will show explosive growth, and energy storage as a " After the introduction of the nearly three-year introduction period, the 13th Five-Year Plan will soon enter the high-speed growth period, and the current base is low, and the development potential is huge.
Trunk Lids And Tail Gates For HONDA:
Yangzhou Gemini Vehicle Industry Co., Ltd. has more than 20 years experiences in producing and selling metal body parts of various vehicles. We are specialized manufacturer of Trunk Lids And Tail Gates used for HONDA, including CITY, CIVIC, ACCORD, FIT, CRIDER, JADE, CROSSTOUR, VEZEL-HRV, X-RV, CRV, ODYSSEY, and SPIROIR. We own Hydraulic Machines, Punching Machines, Numerical Control cutting Machines, CNC Grinding Machines, Painting and Electrophoresis Coating lines. We provide "Professional Efficient Effective" service to all of our domestic and oversea customers. We are very glad to be contacted by you and hope that we can keep a long-term cooperation on the business of Steel Body Autoparts.
Trunk Lids And Tail Gates For HONDA
Trunk Lids And Tailgates For HONDA,Honda Pilot Tailgate Panel Removal,Honda Accord Trunk Lid Replacement,Honda Pilot Parts
Yangzhou Gemini Vehicle Industrial Co., Ltd , https://www.yzqsap.com