Rabbit Laser Engraving Cutting Machine Hx-1290se
Model NO.:
rabbit HX-1290SE
Drive Type:
Stepper Drive
Engraving Machine Type:
Laser Engraving Machine
Certification:
SGS, Ce, ISO 9001
Transport Package:
Standard Plywood Box for Export
Specification:
CE, FDA, SGS
Rabbit laser engraving cutting machine 
1.HX-1290SE with CE\FDAÂ 
2.Auto up and down table
3.High engraving speed
4.80-180w CO2 laser tube
5.Leetro DSP control system
6.Lasercut software, support Coreldraw, AutoCAD
7.Available to work with Windows 7 32/64 bits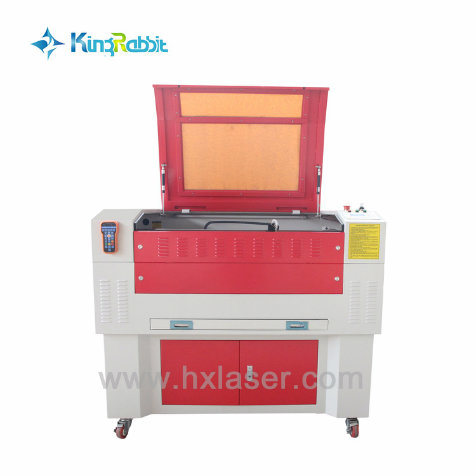 Features:
 
widely used in various industries such as Arts and Crafts processing, Advertising Decoration, Clothing cut-out, Leather processing, Model and Printed hectograph making and so on.
Applicable materials:
Non-metallic materials such as double color board, acrylic glass, bamboo and wood, rubber, marble, granite and tiles, leather etc
 
Guarantee and after-sale service
 
1. 12 months for machine, 3-10 months for laser tube
Optional long lifetime laser tube: 1500-10,000 hours.
 
2. 24 hours technical support by e-mail, calling or door-to-door service
 
3. English software, user manual and detailed instalation&training Videos DVD
 
4. International quality certificate:CE,FDA,SGS,ISO9001
 
5. professional laser machine supplier with 10 years experiences
 
We offer training in our factory.
 (need samples provided)
 
Machine spare parts and repair service is also available from us.
 
 
Standard accessories:
 
1) 1×Air Compressor for Air Assist
 
 
2) 1×Exhaust fan with pipes
 
Optional: Air Filter Cleaner
 
3) 1×Water pump for cooling at Laser tube,
 
Optional: Industrial water chiller
 
4) 1×USB Cable (connecting PC and laser)
 
5) 1×DVD (including lasercut software set, user manual, guiding/training videos etc.)
 
6) 2×Power cables
 
7) 1×Tool bag/box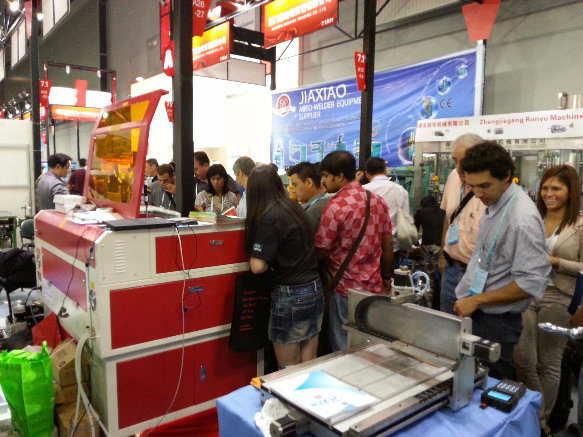 Optional accessories:
 
1) Red-dot Pointer for Laser Head,
 
 
2) Industrial water chiller,
 
 
3) Air Filter Cleaner
 
 
4) Rotary Attachment
 
 
Type
HX-4060SE
 HX-6090SE  
HX-1290SE
HX-1490SE
HX-1610SE
HX-1613SE
Laser power:
40w
60w
80w/100w/120w /150w
Engraving Area (mm)
400 x 600
600 x 900
1200 x 900
1400 x 900
1600 x 1000
1600 x 1300
Gross power
1200w
1200w
1600w/1800w/2000w
Laser type:
CO2 Laser tube
Cutting depth:
acryl 0-20mm
Engraving speed :
0-1000mm/s
Cutting speed:
0-600mm/s
Resetting positioning accuracy:
<0.01mm
Maximum forming character:
English:1.5 x 1.5mm
Power supply:
220V±10% 50HZ or 110V±10% 60HZ
Software supported:
ArtCut, CorelDraw, PhotoShop, AutoCAD
Graphic format supported:
PLT, DXF, BMP, JPG, GIF, PGN, TIF
Engraver for Curve surfaces:
          we can provide rotary system so as to engrave on curse surfaces
Water Cooling: 
Yes
Maximum Height of 
Materials to Engrave:
280mm(by motor)
Assistant Equipment:
Water pump
Exhaust Fan
Aluminum alloy worktable
Air compressor
Optional Spare Parts:
RF Laser Tube
Rotary System
Cooling water system
Red dot pointer
Recommended Spare Parts/Consumables
Laser Tube and Lens
Back blowing Bag Filter
The back blowing bag filter condenses the advantages of all kinds of bag duster both at home and abroad. It is a new type of dust removal device which combines the mechanism of cyclone dust removal and filter dust removal mechanism, and uses special cleaning methods to remove dust.
Summary
The back blowing bag filter condenses the advantages of all kinds of bag duster both at home and abroad. It is a new type of dust removal device which combines the mechanism of cyclone dust removal and filter dust removal mechanism, and uses special cleaning methods to remove dust. The direct scour filter bag with high speed dust air flow is avoided and the service life of filter bag is prolonged; the clean air source of the back blowing dust source is introduced from the clean air flow after purification, which reduces the temperature difference between the air flow of the back blowing air and the Dust Collector and reduces the condensation phenomenon to the minimum limit.
Scope of application
The products are widely used in mine, metallurgy, machinery manufacturing, foundry, chemical, papermaking, refractory, cement, asbestos, industrial kiln and other industries, such as material recovery, flue gas dust control.
Working principle
After the dust air flow is cut into the dust collector, the large particle dust is separated and falling into the ash bucket first, and the small dust particles are suspended in the gas through the airflow distribution device, entering the filter chamber evenly, dispersing in the gap between the filter bags and being blocked by the filter bag, and the purification gas flow is discharged by the main fan.
Structure form of bag type dust collector
1. According to the shape of the bag, it can be divided into flat bags (trapezoidal and flat shaped) and round bags (cylindrical).
2. According to the way of entering and leaving the wind, it can be divided into: the downward wind and the upward wind, the wind and the direct current (only the plate-like flat bags).
3, according to the bag filter method is divided into: external filtration and internal filtration. The filter material consists of cotton fiber, wool fiber, synthetic fiber and glass fiber. The filter material made of different fibers has different properties. The commonly used filter material is 208 or 901 terylene flannelette, the use temperature is not more than 120 degrees C, the glass fiber filter bag after the silicone resin treatment, the temperature is generally not more than 250 degrees C, the cotton wool fabric is generally applicable to no corrosion; the temperature is below 80-90 centigrade gas.
Features of bag type dust collector
1, the dust removal efficiency is high, it can trap small particles with a diameter larger than 0.3 microns, and the efficiency of dust removal can reach more than 99%.
2, the use of flexible, handling air volume by hundreds of hours per hour in the room, small square meters of square meters near the machine tool to hundreds of thousands of cubic meters per hour, directly set up as a unit, also can be used as a large dusting room, that is, "bag house".
3, the structure of bag filter is relatively simple, stable operation, less initial investment (compared with ESP), easy maintenance. Therefore, the bag filter is widely used to eliminate dust pollution, improve the environment and recycle materials.
4. The key filter material of bag filter is now in service for more than 2 years, and has achieved 4-6 years' performance.
5. In dry and semi dry desulphurization systems, the role of SO2 in flue gas is further reduced.

Anti - Blower Cloth Bag Dust Collector
Anti - Blower Cloth Bag Dust Collector,High Efficiency Bag Filter,Cloth Bag Dust Collector,Anti-Blower Dust Collector
Botou Youjian Environmental Protection Equipment Co. LTD. , http://www.btdustmachine.com